September 25, 2018
MUSIC Matters 3rd Quarter 2018
90 DAY NOTICE 
Mark Stockwell
MUSIC Executive Director
Please recall that MUSIC members are required to provide a 90 day notice (by October 1) if you intend to seek insurance bids for 2019. If you leave the program without providing the notice, there will be a 25% penalty of your 2019 assessment.
Unlike some other expenditures, you are not required to seek bids on your MUSIC coverage because it is provided through a non-profit, member-owned, self-insured risk management pool. As you all know, the program has been extremely successful because our members are committed to the long-term shared goals of providing safe and efficient school environments. We do that through effective safety and loss prevention programs and coverage tailored to your needs. A document explaining other advantages of MUSIC membership can be found on the About MUSIC/MUSIC Advantages web page.
FALL SAFETY 
Alan Schmitt, ARM-P
Area Vice-President – Loss Prevention
Arthur J. Gallagher
It's hard to believe that school has been in session almost a month.   As we get into the fall athletic schedule, homecoming and the other activities which blanket our busy school schedule, we also need to take a moment to remind ourselves of some key safety tips.
Fall Sports
For many of us, fall sports are well under way.  However, there are a few key items we need to review.
Coaching Handbooks—Are our coaching handbooks up to date with all current school and MSHSAA guidelines and policies?
Bleacher Safety—Have we checked our bleachers to ensure they are safe and structurally sound? When was the last time you had a bleacher professional inspect your bleachers?  Do they meet CPSC and ICC/IBC guidelines?
         It is important to develop an action plan to comply with these standards.
Emergency Response Plans—Do our school crisis response plans include athletic events?
First Aid Response—Do school policies meet the requirements of MSHSAA? Has staff been trained in the use of AED's and Epi pens?
Transportation Policies—Are our student transportation policies up to date? Do we have coach's transporting students?
Homecoming Activities
The Homecoming date has been set and plans are likely underway.  It is important that school administration understands and approves all homecoming activities. Such activities as school dances, parades, fires, DWI awareness activities and other special activities need to be evaluated from a safety and liability standpoint.
Crisis Management
By now in the school year it is important that emergency response drills have begun and are scheduled in the future.  The following guidelines should be considered for drills:
| | |
| --- | --- |
| Type of Drill | Frequency |
| Fire | Monthly |
| Severe weather/Tornado | 2/year |
| Intruder | 2/year |
| Earthquake | 2/year |
Also, don't forget to complete school bus evacuation drills if your school operates a buses.
In addition, it is important to check that each classroom has it's evacuation plan posted and that the emergency "go kit" is properly stocked and ready for use.
Finally, have we established our first aid response team members?  Are all first responders' current with first aid and CPR-AED training?
Campus Safety & Security
The fall and early winter months are very busy times for our school campus.  It is important we remain diligent in maintaining a safe and secure school campus. With the cold weather just around the corner, there are a couple of items we need to check.
Safety
Do we have a plan in place for treating ice and small frozen areas of precipitation?
Do we have a plan in place to address parking lot lighting conditions since it will be getting dark sooner in the evening?
Have we had our heating systems serviced?
Have we checked that all carbon monoxide detectors are properly functioning?
Do we have additional floor mats available for wet conditions?
Security
Do our security procedures consider special campus events, athletic events, and public meetings?
Have we checked to ensure that all perimeter doors are secured (locked) from the outside on a routine basis?
Do all of our classrooms doors have the ability to be locked?
Do all classrooms have two-way communication with the office/principal?
Transportation
The fall season is a good time to review our school bus fleet and our driver training requirements.  Some questions to ask include:
Are our school buses being properly maintained with a formal preventative maintenance program?
Are our drivers performing pre-trip inspections of the school buses?
Do we have a formal policy in place prohibiting the use of cell phones by drivers while operating the school bus?
Have we developed a formal schedule to ensure our drivers are receiving at least the state minimum of eight hours of training per year? (Did you know MUSIC provides free on-site bus driver training?)
If you have questions about any of the above information please contact me at 314-800-2255.
APPRAISAL PROGRAM – 2018 RESULTS 
Peggy Wilson
Area Vice President – Member Services, Gallagher
Ever wonder about the Appraisal Program that provides values for your buildings approximately every four (4) years?  Those that may be new or if you were not aware about the Appraisal Program that MUSIC provides to its members, here is some background that may be helpful.
Since 1998 MUSIC has been providing, as part of their Membership, a certified appraisal for all the members' structures that are over 3,000 in square footage.  This was done in conjunction with the primary property carriers that write excess property insurance for the MUSIC Program.
Appraisals are done on the Replacement Cost of the building value, not the contents. However, each year MUSIC is given an inflationary increase factor to be applied to the contents.  This value comes from you, the member, and MUSIC increases slightly each year to keep up with inflationary costs, unless a physical appraisal is provided.
The Gallagher Appraisal Service uses Marshall, Swift & Boeckh software to input all data provided by the physical information that is gathered by the appraiser along with the CADs and even Google Earth for linear footage, dimensions, material, usable space, geographical location, and so much more.  MUSIC wants to make sure that your structures are insured for the cost to rebuild or repair in today's values.  You always hear about friends, neighbors or commercial properties that were underinsured and MUSIC has provided this tool, so that never happens to any of its members.
In 2018, a little over 825 buildings, over 3,000 square feet, have been appraised.  Each year inflationary factors that are based on the type of materials used for your structures are applied to building values, so the membership's buildings that were not appraised in the policy year, stay current in their values.
The average inflationary factors for the last 12 months are:
Frame (1) –                                         4.9%
Joisted Masonry (2) –                      4.3%
Non-Combustible (3) –                    4.2%
Masonry Non-Combustible (4) –   4.2%
Modified Fire Resistive (5) –          3.75%
Fire Resistive (6) –                            3.2%
Contents were increased by            3.2%
This does not represent MUSIC's increases, because as mentioned previously, it is based on several other components.  This is just the average across the country.
The nationwide average is 5.63% since a year ago.  Due to hurricanes, Harvey, Irma and Maria and coupled with the earthquake in Mexico has had their effect on these increases from last year.  Now, the recent promises of tariffs and impending trade wars over metal, softwood lumber and other imports have cost surging this year as well.
Skilled labor also is becoming a problem.  Contractors are more active than ever in regional programs to train the next generation of skilled workers, producing a stronger work force and setting students up with job post-graduation, while other companies are investing in training employees internally.
SCHOOL PROTECTION OFFICERS – SPO 
Alan Schmitt, ARM-P
Area Vice President – Loss Prevention
Arthur J. Gallagher
As discussed in several previous MUSIC Matters articles, the appointment of an SPO is one potential security response for our schools.   It is, however, important that all criteria outlined in the legislation be properly addressed and completed.
Earlier this summer, there have been several school districts that have had personnel successfully complete the initial training and weapons qualifications.  This in itself is a challenge.  However, it is important to remember that the initial training needs to be supplemented with on-going training and mental health assessments.
The statute indicates the following:
To maintain their designation, School Protection Officers shall—
(A) Successfully complete a minimum of twelve (12) hours of annual training. Eight (8) hours of this training shall have a primary focus of responding to active school shootings and shall be delivered by a local, county, or state law enforcement officer qualified to offer a response to active shooter course and who is in possession of a valid peace officer license. The remaining four (4) hours of training shall have a primary focus of weapon retention, firearms skill development, defensive tactics, ground fighting, and handcuffing and restraint devices. The four (4) hours of training shall be delivered by a local, county, or state law enforcement officer qualified to offer this type of training and who is in possession of a valid peace officer license.
(B) On a quarterly basis, successfully complete a firearm qualification course using the same firearm used in the performance of their duties as a School Protection Officer. This course can be delivered by any local, county, or state law enforcement officer qualified to offer a firearm qualification course and who is in possession of a valid peace officer license.
(C) Maintain a secondary/third-party First Aid/CPR certification.
Written documentation of the completion of the twelve (12) hours of annual training, successful quarterly firearm qualification, and a current copy of his/her secondary/third- party First Aid/CPR certification must be maintained by the school where the School Protection Officer is employed for a period of three (3) years from the date the training, qualifications, and certifications were successfully completed.
In addition to the above requirements, it is important that all SPO be given a mental health assessment on a routine basis.
If you have any questions on the SPO requirements or other school security related issues contact Alan Schmitt 314-800-2255 or alan_schmitt@ajg.com
WHY BUY AN UMBRELLA 
Peggy Wilson
Area Vice President – Member Services
Arthur J. Gallagher
As a member of MUSIC, you are provided with liability limits up to the statutory state caps that apply when your sovereign immunity defense is waived.  Those limits are slightly over $2,800,000.  However, in today's legal environment that isn't always enough.  Plaintiff attorneys will also name individual employees, administrators and board members to circumvent those same caps and immunities available to Governmental Entities which also triggers large settlement demands.  Umbrella policies offer that "extra" protection from the unexpected.
Many contracts that members have with vendors require more than the $2,800,000 that MUSIC provides.  Be sure you know what limits you have before signing a contract that could require more than what you currently have through MUSIC.
MUSIC staff members receive questions about the need for umbrellas and the reality of the current legal climate and exposure for Missouri Schools and Colleges.  Unfortunately, there have been several suits against our members in recent years with requests for damages in excess of $5 million dollars.  Claims such as automobile accidents that may involve multiple injured parties, can result in large sums of damages being claimed.  Rising medical costs with long hospitalizations can lead to hospital and doctor liens well over six figures.  In some of our current cases we have multiple claimants with combined medical expenses over $1,000,000 for a single accident.  This does not include the same plaintiffs' claims for wage loss and permanency.  In those situations it is easy to anticipate demands in excess of our policy limits. Fortunately, our members involved have had umbrella policies.
One request we get most often regarding umbrellas is, "What are other members purchasing?"  On the right is breakdown of what the MUSIC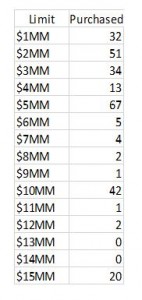 Members purchased last year.
Please feel free to contact me with any questions on this coverage or if you are interested in purchasing this coverage.  We will provide all members quotes in your 2019 MUSIC Invoice Assessment Packet in the beginning of November.
FALL WORKSHOPS 
Mark Stockwell
MUSIC Executive Director
Introduction
MUSIC Legal Liability Fall Workshops will be conducted by Tom Mickes through our partnership with Missouri Consultants for Education.
The topics this year focus on several timely staff and student issues that will assist you in protecting your district or college from potential risk of litigation.  We encourage you to include all administrative staff and any board members who may benefit from this training.
Topics
Controlling Claims Under Missouri's New "Whistleblower" Statutes
Hot Issues in Student Discipline –  In School, Out of School, and Special Education
Protecting the District in Contracting Employees and Vendors
Compliance with Increasing Frequency of Sunshine Law Requests
Schedule
Tuesday, September 18, 2018 – POPLAR BLUFF R-I 
Wednesday, September 19, 2018 – BOLIVAR R-I  
Monday, September 24, 2018 – MOBERLY #66
Tuesday, September 25, 2018 – LAWSON R-XIV
Wednesday, October 3, 2018 – WENTZVILLE R-IV 
Friday, October 5, 2018 – ROLLA #31
Please click here for registration information
MUSIC ANNUAL MEMBERSHIP MEETING
Mark Stockwell
MUSIC Executive Director
The 2019 MUSIC Annual Membership Meeting is just around the corner. Please mark your calendars for January 24‐25, 2019 at the Lodge of
Four Seasons, Lake of the Ozarks.  The agenda will be sent to all members later in the fall. You may call the Lodge (573‐365‐3000) now to make reservations. You may also register online with MUSIC on the events page.