March 1, 2019
MUSIC Matters – Volume 23 – First Quarter 2019
MESSAGE FROM THE BOARD CHAIRMAN
DR. BERNARD DUBRAY
SUPERINTENDENT OF SCHOOLS
FORT ZUMWALT SCHOOL DISTRICT
Dear MUSIC Member,
Well, we're not quite there yet, but spring is rapidly approaching. Cardinals and Royals baseball have started spring training games and that is always a good sign that the warm weather is rapidly approaching. This is the first newsletter of the new year and it follows closely the Annual Meeting, just completed. I think the MUSIC staff has once again hit a home run with meetings that were worthwhile and informative. This is indicated through our survey, which has been completed since the meeting, and also the comments heard as the members left the meeting January 25.
Recently you should have received information about two vacant director positions the Board is seeking to fill. Phil Cook, Board Vice Chair, and Ron Orr, Board Treasurer, are serving as the nominating committee. Anyone interested can contact them or Mark Stockwell, the Executive Director. If you are interested in doing something really good for your organization and you are located in the South Central or the Northwest region of the state, I urge you to express your interest. The Board enjoys their role of overseeing our organization and every minute of time volunteered is well worth the effort.
The new legislative session is now well underway in Jefferson City and our lobbyist Bill Ray is watching carefully legislation that could affect our organization. There are also many new proposals that would affect school districts in ways other than just their insurance coverage. I urge you to follow the legislation on charters and vouchers in particular and make your wishes known to your state legislators. They really listen and often count noses to determine their support or lack thereof.
Finally, at the first meeting of the Board of Directors following the conclusion of the Annual Meeting, I was re-elected as the chairperson. Phil Cook was re-elected as Vice Chair and Ron Orr was re-elected as Treasurer and Chris Wilson was elected as secretary. We will hold three other meetings during the year before our annual meeting in January, 2020. Meeting dates for the Board will be June 7, September 5 and October 10.
We are all excited as a Board to continue to represent the membership and oversee what has become one of the most successful insurance pools in the country. Thank you for your membership and best wishes for a safe and productive spring and end of the school year.
---
MESSAGE FROM THE EXECUTIVE DIRECTOR
MR. MARK STOCKWELL
MUSIC EXECUTIVE DIRECTOR
The 2019 MUSIC Membership Meeting was held January 24-25, 2019. We had another strong turnout and I'd like to thank all attendees for taking the time out of your busy schedules to make the trip. The membership meeting provides the venue for MUSIC staff to share the program results from the prior year and plans for this year with our stakeholders. We also include presentations on timely topics that hopefully help prepare members to prevent and/or respond to new risk issues schools are facing. I'd also like to thank everyone that completed the meeting evaluation surveys. We want to hear your thoughts and appreciate you taking the time to share them. The reviews were very positive again this year and everyone seemed to enjoy the keynote speaker.
The Dr. Gary VanMeter Award for Excellence in Risk Management program was modified a bit this year to recognize and reward four members that have demonstrated outstanding efforts and results in maintaining safe school and work environments. The recipients were selected using quantitative claims experience and training data. The awards were presented to Nodaway Holt R-VII, Crane R-III, Potosi R-III, and North Central Missouri College. Congratulations to these member organizations for earning the 2019 Dr. Gary VanMeter Awards for Excellence in Risk Management.
The recipients of the 2019 MUSIC/Jack Holley Scholarships will be selected later this month and will be announced via email to the MUSIC membership. The selection committee has a very difficult task again this year as we received 237 applications. There will be six $2,000 scholarships awarded to graduating seniors with three funded from the proceeds of the MoASBO/MUSIC Golf Tournament and three more funded by donations from Mickes O'Toole, Gallagher Bassett, and Genex.
In closing, please continue to remind all of your staff to stay focused and to pay attention to the "little things" as they frequently become "big things" if not addressed promptly. Your proactive efforts keep students and staff safe during this busy time and throughout the year.
Thank you for your continued support of MUSIC and the students of our great state. Together we truly are Protecting Missouri's Future!
---
MOASBO/MUSIC GOLF TOURNAMENT
Mark Stockwell – MUSIC Executive Director
The MOASBO/MUSIC Golf Tournament is scheduled for Sunday, April 28, 2019. The event will be held at the Lodge of Four Seasons on the Cove and Ridge courses. The tournament (a four person scramble) will begin with a shotgun start at 1 pm and will culminate with an awards dinner immediately following the tournament at Tan-Tar-A. There will be drawings for prizes donated by the vendors and sponsors during the dinner. You must be present to be eligible to receive these prizes.
The $70 registration fee includes: golf, cart, refreshments on the course, and dinner. Registrations can be submitted as complete teams or individuals and should be sent to Mark Stockwell at MUSIC. The registration form can be found on the MoASBO and MUSIC websites [https://www.musicprogram.org/wp-content/uploads/2019/02/April-28-Golf-Registration-Form-2019.pdf]and please feel free to contact me at 314-800-2220 or mark.stockwell@musicprogram.org with any questions you may have. I encourage you to register early and look forward to seeing you on April 28th.
---
Student Transportation
Alan Schmitt, ARM-P – Area Vice President Loss Control
In the climate of reduced budgets and a shortage of bus drivers, districts are looking for innovative methods to transport students.  The following guidelines should be followed when considering alternative transportation methods.
Vehicles Used For Transportation
Under federal and state guidelines, any vehicle used to transport students with a rated occupancy of  more than 10 passengers, including the driver, must be a  yellow school bus and meet all Missouri Minimum Standards for School Buses and all Federal Motor Vehicle Safety Standards for School Buses
This means that a school district cannot purchase, contract, or rent any vehicle with a rated occupancy of more than 10 to transport students unless it is a motor coach and meets the Missouri definition for motor coach.  (reclining seats, restroom, air conditioning, etc)
Driver Qualifications
Under most circumstances, a bus driver, teacher, coach or school staff member who transports students as part of their employment responsibilities must meet minimum specified state guidelines.  These guidelines vary depending on the type of vehicle used to transport students.
School Bus Drivers—
In Missouri all school bus drivers must be a minimum age of twenty-one. In addition, all school bus drivers must possess a current and valid CDL license with the "S" endorsement.
All school bus drivers must receive an annual physical examination. Bus drivers employed by the school district are required to obtain the annual physical by anyone licensed in Missouri to perform physical examinations.  Any bus driver who is employed by a contracted service, who drives more than Home-School routes, must obtain the DOT physical.
A driver who is over 70 years of age must renew their driver's license annually and are required to submit proof of a school bus skills test to retain the S endorsement on their driver license at time of renewal.
All school bus drivers must receive eight hours of documented training on an annual basis.
All school bus drivers must participate in a drug and alcohol testing program.
 Other Employees Who Transport in Non-School Buses— (Vehicles which have an occupancy rating of 10 or less)
All other school employees who are required to transport students as part of their employment on a routine basis must possess a Class E license with the "S" endorsement.
Non-School Bus Drivers—
These drivers must receive eight hours of documented training on an annual basis.
These drivers must receive an annual physical examination by anyone licensed in Missouri to perform physical examinations.
This does not apply to school district staff that transport students on an emergency or incidental basis.  Incidental is interpreted as transporting students in an unexpected one time per year basis.
Any driver who possesses an out of state license can only transport students if their state will issue a Class E license with an "S" endorsement.
If your district is considering using or currently using non-school bus vehicles (Occupancy rating of 10 or less) the following guidelines must be considered:
These vehicles are not exempt from the child restraint regulations and laws
The driver is responsible to ensure all occupants are properly wearing the seat belts and all occupant restraint devices.

Best Practices
The follow best practices should be considered for all drivers:
An annual MVR (Motor Vehicle Records) check should be completed on all drivers who transport students.
Proof of insurance should be obtained from all staff who transport in private vehicles.
The use of cell phone while operating the vehicle should be prohibited.
Consider placing all Non-School Bus drivers in a drug and alcohol testing program. (A separate pool from your CDL drivers).
All Drivers should participate in the "Smarter Adults Safer Children" training.
See Table Below
School District
Use Non-School Bus Vehicles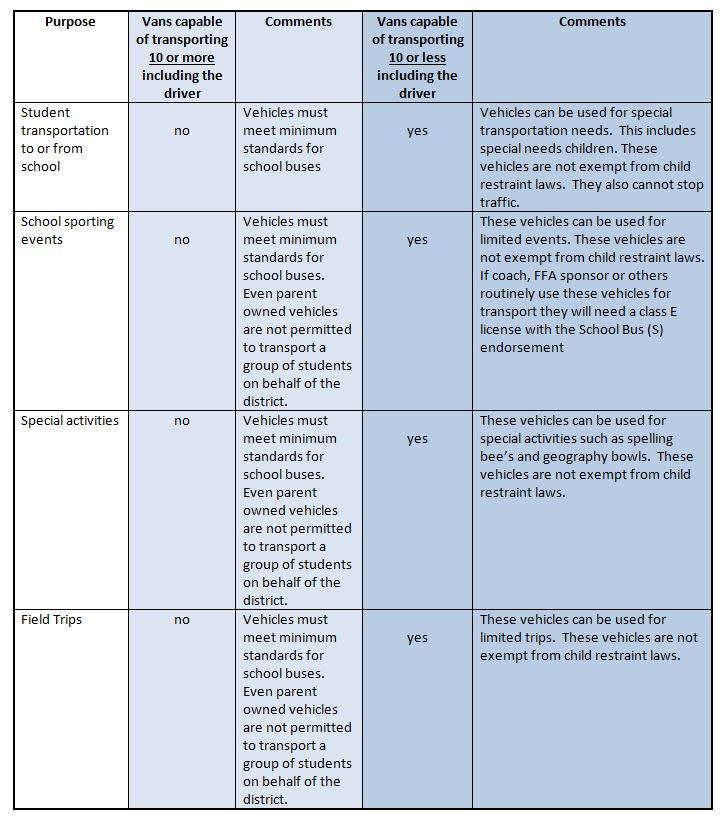 ---
Board Vacancy
Mark Stockwell – MUSIC Executive Director
As many of you may know, MUSIC Directors Patricia Thompson and Tim Mattson recently announced their planned retirements effective June 30, 2019. Both of these individuals have served the MUSIC Program extremely well. Their expertise and leadership will be greatly missed and we appreciate all of their efforts on behalf of the MUSIC Program and its members. These retirements will create openings on the MUSIC Board of Directors in the South Central and Northwest Regions. If your district is in one of these areas and you're interested in serving on the MUSIC Board, please contact Mark Stockwell at (314) 800-2220 or [mark.stockwell@musicprogram.org].
The nominating committee will begin reviewing applications in mid-April.
---
Online Workers' Compensation Toolkit
Peggy Wilson – Area Vice President, Member Services
In an effort to drive down costs associated with workers' compensation, we are working on a training package and toolkit to provide to MUSIC members.  Training modules are under way!
Best Practice Work Comp Program Training

Intro to Work Comp
Work Comp Coordinator training
Work Comp program development
Post-injury response
Medical cost containment strategies
Return-to-work strategies

Claim Management Workflow Toolkit
Loss Prevention Training

Critical Safety Behavior Awareness training for teachers, admin, custodians, maintenance, food service, bus drivers, and mechanics.
Being able to provide these resources to you at your fingertips along with training on the finished product is a way we believe will keep claims down which in turn will lower your experience modification factor that effects your workers' compensation premium on your assessment.
We are excited about this project and will be providing updates throughout the upcoming months, so keep your eye out for WC Toolkit Updates!
There will be a "testing" period prior to launching these training modules, and we ask that if you are interested in being in the Test Group, to please reach out to Jessica Conley, Training Coordinator, at Jessica_conley@ajg.com
---
School Security – Arming Staff
Alan Schmitt, ARM-P – Area Vice President Loss Control
What Are My Expectations and Options?
It seems every time you turn on the news, pick up a newspaper, or look online there is a reference to an active shooting event.  Unfortunately, school violence and shootings are not going away.  Therefore, it is extremely important that we review our current security procedures and understand some of our security options under the MUSIC program.
There are five primary areas which should be addressed:
Perimeter and classroom physical security
Security policies
Security training and intruder drills
Threat assessment
Armed security personnel
Let's review each of these topics a little closer:
Physical Security
The physical security of your campus, schools and classrooms continues to be one of the most important areas to address.  However, with this in mind, our security efforts cannot interfere with "Life Safety Code" guidelines.  We need to look closely at any security measures being considered to ensure they do not create a life safety issue or other safety concern.
Some key physical security items to consider include:
All perimeter doors need to be locked from the outside. This includes kitchen doors and doors used for playground access.
Video monitoring should be considered at all entrances, but at a minimum, it should be installed at the main entrance to the school.
The main entrance should have a communication system with the main office.
All classroom doors should have the ability to be locked. It is strongly recommended that doors which require a key to lock them be "pre-locked."
First floor windows and windows in classroom doors should have shades or blinds so they can be closed during an intruder event.
Glass panels in classroom doors should have a clear security film placed on them so they are more impact resistant.
Each classroom should have two-way communication with the office.
Security Policies
It is also important that our security policies be reviewed and updated to address potential concerns.  The policies should then be communicated to staff.  Probably one of the most important policies to review is the visitor and vender policy.  Do you have a good policy which requires the visitor/vender to sign in, wear visitor lanyard and sign out?  Even a better policy is to collect some form of identification when they enter the school.
Security Training and Intruder Drills
All staff and students should be routinely trained in intruder policies and how to react to an intruder.  In addition, a minimum of two intruder drills should be completed every school year.  The training and drills should include the following:
Confronting any person in the building who is not wearing a "visitor" badge.
The importance of maintaining perimeter security.
Not opening perimeter doors for individuals and rather directing them to the main entrance.
How to properly secure classrooms and other safe areas.
The importance of option-based responses.
Scenario-based drills should be considered.  These actively require teachers and staff to make split second decisions.  All staff needs to be trained in option-based responses.
Threat Assessment
A key component in eliminating an active shooter event is to identify any potential threats before they escalate into an actual event.  This is the primary purpose and focus on the threat assessment process.  Analysis of past events has told us that many times one or more students, teachers or others were given clues that the event was going to take place.  It is important that a program be put in place so these clues can be communicated to a common person or team and evaluated and perhaps acted upon to keep the event from occurring.
Armed Security Personnel
Within the MUSIC program you have several different options for armed security personnel on the school campus.  They include the following:
A commissioned law enforcement officer
This is probably the best option.  This is an SRO or similar commissioned officer assigned to the school district or school event.  In this scenario, the commissioned officer is largely controlled by the local police chief or county sheriff.  The police chief or sheriff will ensure the SRO maintains their commission, weapons qualifications, physicals, and mental assessments.
A School Protection Officer (SPO)
In 2014, the Missouri Legislature passed SB 656.  This legislation created the position of a SPO in a school.  If your district is interested in appointing a SPO, you must follow all criteria outlined within the legislation.  This includes having the person receive all POST-required training.  In this scenario, the SPO is not commissioned by the local police chief or sheriff.  Therefore, they will not have a relationship with the juvenile system and their powers are limited.  In addition, it will be the school district's responsibility to make sure that the SPO remain current in weapons qualification, mental assessments, and physical exams.  Currently, there is only one known organization which will provide this training.  This is the Law Enforcement Institute with the University of Missouri Extension.
Contracted security service
Under this scenario, the school district hires an outside security firm to provide security at the school or school event.  If you enter into this type of agreement, it is important that the contract requires that the private security company requires their security staff to maintain weapons qualifications and mental health assessments.  The district should also require a certificate of insurance from the private security firm for both liability and work comp.
This option is when the school hires off-duty law enforcement officers to perform security duties at the school.  Under this scenario, the law enforcement officer is a contracted employee of the school district.  It is very important that your attorney provides a clear and concise job duty and employment agreement.
There is only one company I am aware of which provides this service (Shield Solutions).  Under this method, the school district allows staff members to become armed.  The district contracts with Shield Solutions to provide training, mental health assessments, and receive weapons qualifications for selected staff.  In addition, Shield Solutions also provides ongoing training and mental health assessments.  It is our understanding that the contract with Shield Solutions indicates that if a Shield Solutions trained person is ever is required to use their weapon as a result of an active shooter event, they immediately become a Shield Solutions employee and will be covered by the liability and work comp insurance of Shield Solutions.
If any District employee has only the State Conceal Carry Training—they are not covered by MUSIC.
MUSIC Resources
Your MUSIC loss control staff has developed several checklists and other resources to assist your school district evaluate and address your security needs.  In addition, we are available to perform onsite security evaluations of your school and campus.  Finally, we are also available to assist you with training your staff on intruder response.  If you have any questions, please do not hesitate to contact us at 314-800-2255 or @ alan_schmitt@ajg.com
---
Are They Covered? Why Special Events Are Needed
Peggy Wilson
Area Vice President – Member Services
As a MUSIC Member, you have your property and casualty coverage under one comprehensive plan for all participating members.  For events happening on and around campus, the rule of thumb for whether a particular event is covered comes down to the answers to two questions:  1) Is this a school/college sponsored event? and 2) Does the money run through the school/college books?  If 'yes' to both of these questions, unless excluded, the event should be covered under your regular coverage through MUSIC.
The definition of SCHOOL SPONSORED means that the school/college manages, supervises, and controls the event. This is required because MUSIC provides coverage to you.  The member, prior to joining, completes an application, signs required documentation, and requests to join MUSIC.  Annual renewal questionnaires are done gathering additional exposures for your school/college.
If a group or organization has events, even though they are assisting the member, whether it be financially giving back or working to better the member, but is in control, manages, and is supervising an event on school premises, this means it is NOT school sponsored.  MUSIC did not collect information from these groups, nor do we have signed documentation from these groups or organizations on file.  MUSIC does not insure these groups.  They are considered a separate organization or entity.
We strongly suggest that if you have a non-school sponsored group having an event on your premises, that they provide you with proof of liability insurance.  This can be done by the group requesting a certificate of liability insurance from their liability carrier/agent showing the MUSIC member as an additional insured with respect to the use of your facilities.
Money must run through your books. This means that you, the member, are aware of any and all transactions associated with this group/organization for their event(s).  You, once again, have control of the money associated with vendors, supplies, etc.
There are many events that either one or both criteria are not met and this is when we suggest that the member require those groups/organizations to have their own insurance.  This is so that the MUSIC member is not responsible for something they have no control over.  MUSIC provides you with insurance that protects the district/college.  However, they do not provide coverage for non-school sponsored events or if you do not have control over the funding.
If a group/organization has an event on your premises without insurance, and a claim occurs, those groups/organizations will not be protected and would end up paying out of their own pockets if they have a judgement against them.  You, as a member, have coverage for your interests and are protected.
We also suggest that you refer to your Board Policy on the use of facilities by outside organizations.  Most policies indicate that anyone who uses your facilities is required to have and provide proof of their insurance prior to the use of your facilities.  There are some members that do not require this and have changed their policies to show this.
As you know, Districts must follow Board Policy.  By not following Policy, you are vulnerable to a lawsuit.
There are many resources available to these outside groups/organizations to purchase general liability coverage.  They can go to their local insurance agent for an annual policy for their insurance needs, or if they are just looking for one-time event coverage, MUSIC has an online program that can be accessed through the MUSIC Public website at www.musicprogram.org.  Click on Coverage & Services/Special Events Coverage/Apply for Special Events Coverage.  This will take them to a site where a short application can be completed online and a quote will be provided.  It will require your Venue ID Code (found under Document Library) OR they can type in the MUSIC member name where indicated.  If the user wishes to purchase this coverage, they can do so with an e-check or credit card. Please note that this coverage is only for events that happen on school premises.
Project Graduation and After Prom events are approaching, these, in most cases, would usually require the sponsor to be insured.
If you have additional questions on this, please feel free to contact the MUSIC Team at musicprogram@ajg.com and email us your questions or concerns.
---
New Staff Member
Lisa Jackson – Liability Supervisor
Our new team member is TJ Sharley who serves as the Technical Assistant to the claims staff. He is responsible for the intake of new claims, obtaining additional information from our members on new claims, and assists the Resolution Managers in various claims tasks. We are very excited about the new edition to our team.
---
MUSIC's New Course Library
Peggy Wilson – Vice President, Member Services
We are excited to announce a new resource that is available in your SafeSchools/SafeColleges Learning Management System. You'll now find the MUSIC custom library right alongside your SafeSchools/SafeColleges Training library!
Missouri requires two hours of dyslexia training annually, beginning with the 2018-2019 school year. The MUSIC Team had preliminary conversations with DESE regarding the criteria they would be using when they were creating their training. Based on research of their training and similar programs, we determined DESE was providing a comprehensive training that provides what is required and we are recommending to utilize this great resource. We are providing a link to this training in the new MUSIC Training library so that you are able to access with ease.  This link will take you to the DESE site.
This will provide a sense of how the new library works, while also giving you quick access to the DESE training links. Moving forward, we will be adding MUSIC-specific courses to help with training over other topics of interest. As mentioned at the Annual Meeting, the current project focus is workers' compensation. See the updates on that project in this Newsletter!
To preview the courses in the new MUSIC library, you must log into your SafeSchools or SafeColleges URL site. You can get this information from your training coordinator, or by contacting Jessica Conley at 314-800-2234 or jessica_conley@ajg.com.
---
Key Elements of a Tornado Safety Plan
Alan Schmitt, ARM-P – Area Vice President Loss Control
The tornado season is here.  It is once again time to revisit our tornado safety plan.
Our plan includes three primary elements:
Preparation
Drill
Response
Preparation:  Being prepared for a tornado starts with a good plan. The first element to consider is to determine where your employee, clients or visitors will be the safest.  Ideally, the lowest possible level, in an interior room, is the safest. The use of long halls should be used as a last resort.
Let's review our tornado safe shelters:
Where are they?
Do all staff, clients, volunteers know where they are located?
Are they identified with signs?
Are they clear of clutter?
Do they have emergency lighting and working flashlights?
Does staff know where emergency go buckets are located?
Once you have identified these safe areas it is important that you share this information with your local emergency responders.
It is also important that specified staff be directed to listen to the weather radio and monitor weather conditions.
Drill:  All staff should take drills seriously.  It is your responsibility to assist students as directed by crisis team leaders or your supervisor.
Response:  The final key area of the plan needs to include the response after the event.  This includes such items as:
Staff and client accountability
First aid
Turning off electric and gas
Coordination with emergency responders
Communication with the media and parents
Many times the response will be determined by the severity of the tornado.
In summary, a good tornado safety plan begins with good planning and preparation.  It is vital that you review your plan at least yearly to make sure it still is the best possible plan you can have in place.  Once you believe you have the best plan in place, then you need to train and drill the plan so it will be properly followed in the event of a tornado.