June 21, 2019
MUSIC Matters – Volume 23 – Second Quarter 2019
MESSAGE FROM THE BOARD CHAIRMAN
DR. BERNARD DUBRAY
SUPERINTENDENT OF SCHOOLS
FORT ZUMWALT SCHOOL DISTRICT
Dear MUSIC Member,
Summer is now well underway and we are all busy preparing buildings for the next school year in our districts and community colleges. Insurance claims have not been too excessive in our most recent review, however, flooding and one building fire have caused issues for several of our members to manage.
The MUSIC board recently held our second meeting of the year and heard a report on investments. Our consultants from Enterprise Trust and First Bankers Banc Securities reported that all surplus funds invested are earning a higher rate of return than you would expect. An overall review of our current budget shows a total of all lines of coverage to be trending positively for our organization. The Board also reviewed the final draft audit for 2018 and approved the document. It was a clean opinion. The audit and the budget review both indicate the sound financial position of our organization.
Finally, I would report that our nominating committee, Phil Cook and Ron Orr, recommended Jenny Ulrich, Superintendent at Lonedell, and Jeff Blackford, Superintendent at Nodaway-Holt to fill the Board vacancies created when Patricia Thompson's and Tim Mattson's retirements become effective June 30, 2019. The Board unanimously approved these recommendations and Jenny will represent the South Central region and Jeff will represent the Northwest region beginning with their first meeting on Sept. 5, 2019.
Best wishes for a safe and productive remainder of the summer and I very much look forward to the next year as chairman of your MUSIC organization.
---
MESSAGE FROM THE EXECUTIVE DIRECTOR
MR. MARK STOCKWELL
MUSIC EXECUTIVE DIRECTOR
Time seems to just slip away!  It's hard to believe we're nearly half way through 2019. I wish you smooth sailing this summer and a great start to the 2019-2020 school year. WOW…2020!
The 2018 MUSIC audit has been completed and the results were shared with the Board of Directors at its quarterly meeting on June 7th. The auditors provided a clean opinion on our financial statements and there were no surprises to share. Large property claims were down in 2018 allowing revenues to exceed expenses by $4.5 million or 5.6% of assessments.
The 2019 operations are currently trending better than projections. Member fund balances remain strong at $27.7 million or approximately 33% of assessments and we are optimistic that some level of membership credit or assessment reduction will be available for the 2020 plan year. The MUSIC Board of Directors will make that decision at the 4th quarter meeting in October.
The annual golf tournament co-sponsored with MOASBO was another big success this year. 157 players participated on the two Lodge of Four Seasons golf courses and we raised approximately $11,500 for the MOASBO and Holley/MUSIC Scholarship Foundations. The tournament sponsors are highlighted later in the newsletter along with photos of the 2019 scholarship recipients.
The Board of Directors also approved Jenny Ulrich from Lonedell and Jeff Blackford from Nodaway-Holt to serve as the South Central and Northwest representatives on the MUSIC Board. We are excited about working with these two talented individuals. The positions were available due to the retirements of Patricia Thompson and Tim Mattson. We'll definitely miss the leadership and friendship of these two dedicated education professionals and wish them well in retirement.
Have a great summer and please give me a call if you have any questions about the program or if I can assist you in any way.
---
RENEWAL QUESTIONNAIRE REMINDER
Deanna Sharley  – Client Service Manager
Just a note to remind you to keep a lookout for the 2019 Renewal Questionnaire e-mail that should be arriving in your inbox around August 1st. If your e-mail address or personnel will be changing, please contact us so we can update our records.
---
SUMMER BUILDING PROJECTS
Peggy Wilson – Area Vice President, Member Services
It is that time of year when many members start, or have already started, construction projects by making updates to their buildings, renovations or constructing a new building. MUSIC provides its members' Builders' Risk coverage up to $50,000,000 for any one loss at any one location.
This coverage is needed when a construction project is being done by the member. Builders' Risk coverage protects the member, contractor, sub-contractor(s), and sub-subcontractor(s) insurable interest in materials, fixtures and/or equipment being used in the construction or renovation of a building or structure should those items sustain physical loss or damage from a covered loss.
MUSIC has a Builders' Risk Notification Form that is required to be completed PRIOR to the materials arriving on the project site. This form requests information pertaining to the project, so that we can have a record in our system and to present to our excess property carriers. MUSIC also wants to make sure that all contracts have been reviewed by either your school attorney or someone from the MUSIC staff.
Contracts are very important. They are an agreement by two or more parties confirming that both parties agree to follow the wording in the contract. Most all contracts indicate that the "Member" is responsible to provide certain insurance requirements. We want to make sure that those requirements are in line with what MUSIC provides you as a member. If the Member signs a contract, you need to make sure that you are able to provide what the other party is requiring. We have come across cases where the contract has already been signed, but the requirements that have been agreed upon are not available. This is a problem and can slow the claim process down, and can put the Member on the line if there is no insurance or recourse that MUSIC can provide.
It is very important for all construction contracts to be reviewed by your school attorney or the MUSIC Team to ensure both parties can provide what is being asked and that the contract is balanced for both parties.
---
TRAINING UPDATES
Jessica Conley – Client Training & Technology Coordinator
Client Training and & Technology Consultant
As you gear up for the 2019-2020 school year, we know you have a lot to prepare! In an effort to assist you in getting ready, here are a few training updates and reminders.
SAFESCHOOLS/SAFECOLLEGES TRAINING
MUSIC requires all member districts to complete the MUSIC Sexual Misconduct: Staff to Student online training. The Smarter Adults Safer Children training, previously available via DVD and online video, is no longer available and has been replaced with the MUSIC Sexual Misconduct: Staff to Student online training as of 2017.  If training is not completed by staff and a sexual misconduct loss occurs, the district will be subject to a $100,000 deductible per claim.  Please keep records of group training, as these records will be needed for deductible to be waived.  These records can be uploaded within your LMS through SafeSchools/SafeColleges, or in your Document Library in the Admin Portal.
MUSIC offers a total of 11 training courses to you as a MUSIC member that may be beneficial. However, the Sexual Misconduct: Staff to Student is the only one required by MUSIC. To view other available courses, or courses available for colleges, please visit the training tab at musicprogram.org.
Should you have any further questions or concerns regarding training, please reach out to Jessica Conley at Jessica_conley@ajg.com or by direct phone 314-800-2234
BUS DRIVER TRAINING
Several training opportunities have been added to the Events tab at musicprogram.org. Visit the site to find one near you! If you do not see one near your area, you can volunteer to be a hosting district for the training by contacting Alan Schmitt at 314-800-2255
---
2019 SCHOLARSHIP WINNERS
Mark Stockwell – MUSIC Executive Director
MUSIC is proud to announce the 2019 Dr. Darrell "Jack" Holley Scholarship winners:
The funding of the scholarships is provided by proceeds from the golf tournament and corporate donations.
Congratulations to these winners who each will receive a $2,000 scholarship (nonrenewable) for their future education! MUSIC will be presenting the scholarships to the winners in the following weeks.
Thanks to the 250 applicants who applied.  All were reviewed by the
Scholarship Committee.  We wish them all good luck in their future.
Dallin Townsend                Green Ridge R-VIII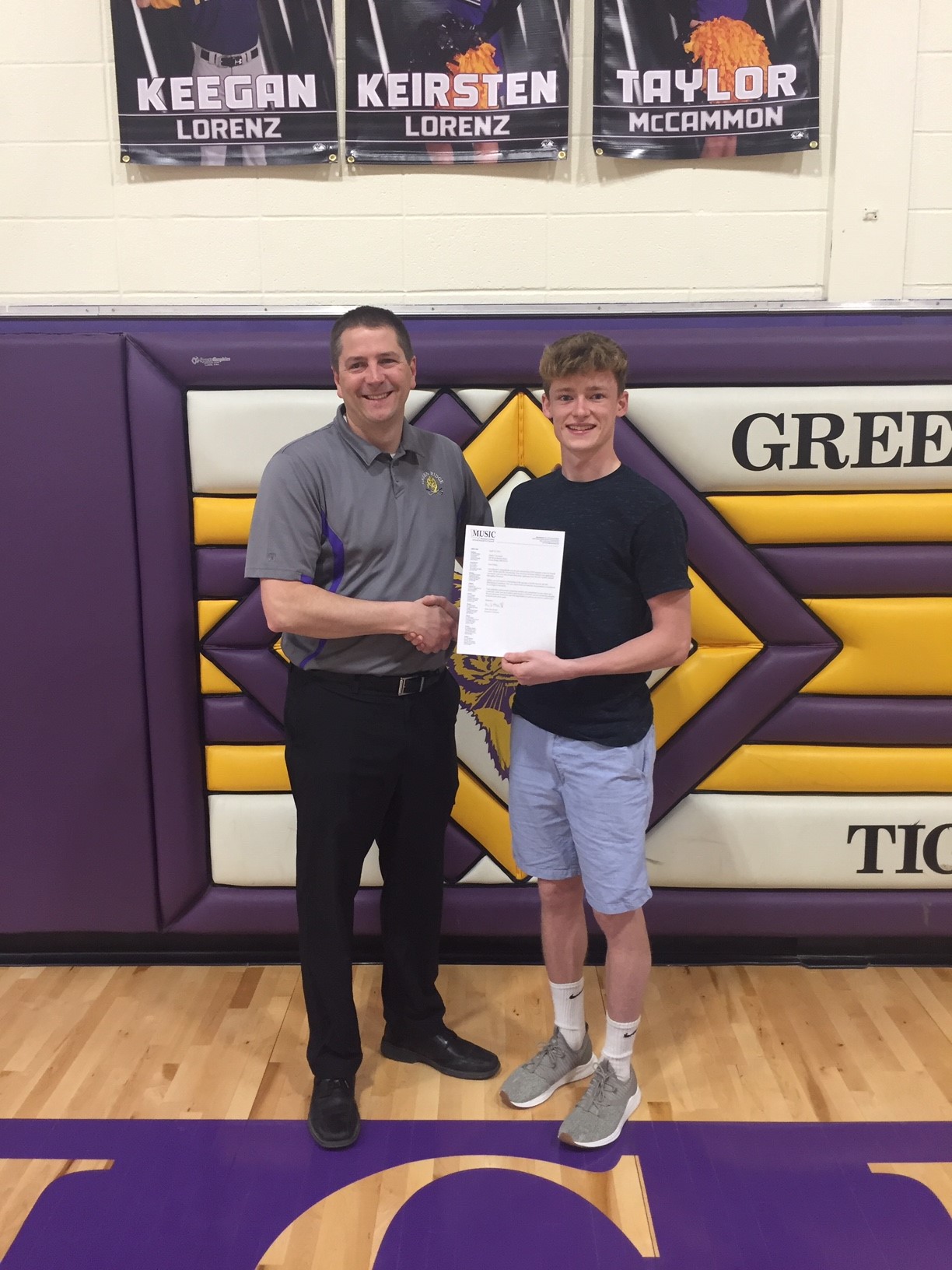 Rodney Eddington, Secondary Principal; Dalin Townsend, Scholarship Recipient
Ashely Riley                        Jefferson C-123
Madison Kliethermes       Osage County R-III
Tyler Schuster, Blackwater R-II (Boonville R-I High School)
Demetrios Case, Rockwood R-VI – Marquette
Nathaniel Beattie, Wentzville – Timberland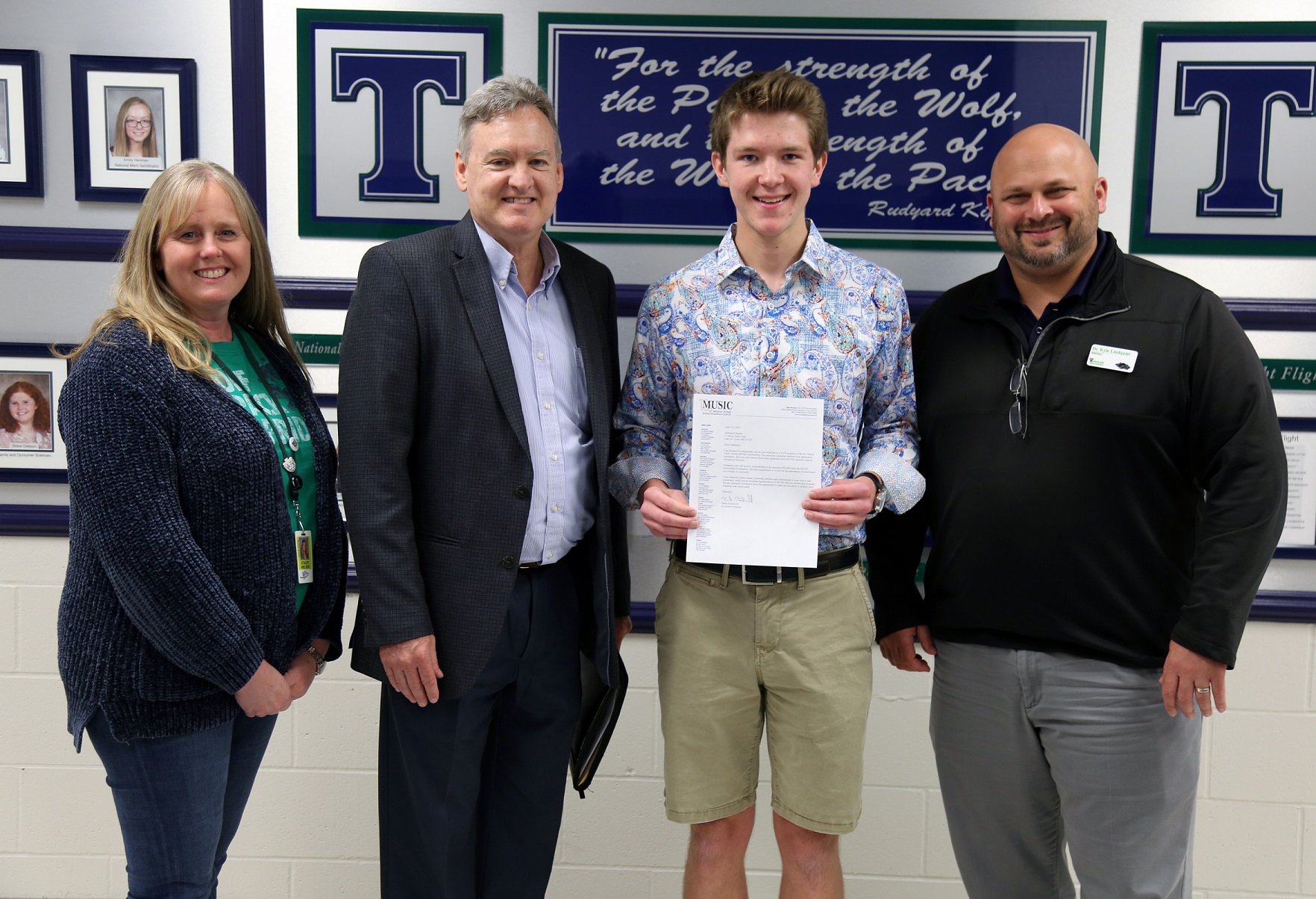 Stacey Nielson; College Counselor, Mark Stockwell; Executive Director MUSIC, Nathanial Beattie; Scholarship Recipient , Kyle Lindquist; Principal
---
Student Transportation
Alan Schmitt, ARM-P – Area Vice President Loss Control
Summer is almost here and many of us are putting together a list of projects to be completed. We have numerous cleaning, maintenance, landscaping and construction activities planned for our buildings and campuses.
Many Districts will hire seasonal help to help complete many of these activities. So how do we keep our seasonal help from being injured and becoming a work comp nightmare? Here are a few suggestions.
Hire only qualified seasonal help.
Make sure your supervisors pay special attention to the work activities and habits of seasonal help.
Provide seasonal help with proper instruction, training and personal protective equipment. Don't assume that everyone knows the proper methods to perform the job safely.
Provide instruction on safe work guidelines including such basic items as ladder safety, electrical safety, safe chemical handling, etc. (See safety orientation checklist at the end of this article)
Provide all seasonal help with a list of safety guidelines/rules.
Pay special attention to unusual jobs. Especially jobs working from heights, jobs working with chemicals in confined areas and jobs which require working in excessive heat.
If you hire contractors make sure you get the necessary certificates of insurance.
Consider the age of the person before assigning jobs.
As you might imagine, there are some special precautions we must consider when utilizing seasonal help. By following these basic guidelines and communicating with all involved, our summer does not have to be a work comp nightmare.
Some of the more common summer/seasonal hazards include heat related illness, skin cancer, mowing hazards, tractor rollovers and chain saw usage. Therefore it is important to review some vital safety tips with our employees who have the responsibility to perform these jobs.
Preventing Heat Related Illness
Heat related illness accounts for over 300 deaths annually and many other emergency room visits. People suffer heat-related illness when their bodies are unable to compensate and properly cool themselves. Several factors affect the body's ability to cool itself. Among them include: age, obesity, heart disease, and drug or alcohol usage.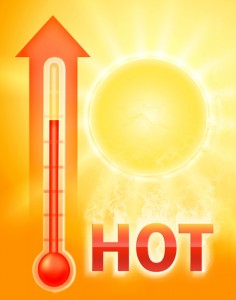 You can, however, reduce the possibility of becoming a victim of heat related illness by following these guidelines:
Drink plenty of fluids
Wear appropriate clothing and sunscreen
Schedule outdoor activities carefully
Pace yourself
Use a buddy system
Monitor those at high risk
Use common sense
Mowing Safety Tips
For most of us, using a push mower or weed trimmer seems almost second nature.  However, both of these pieces of lawn care equipment can cause serious injury. It is most important that all full-time and seasonal help are trained in the proper use and potential hazards of the equipment. What may seem like common sense safety tips should be reviewed and communicated to all staff, especially to new or younger workers.
The following should be reviewed:
Walk the area prior to mowing. Look for sink holes and debris.
Make sure you have the proper PPE(personal protective equipment) eye protection, hearing protection, proper foot ware and sun screen.
Make sure all guards are in place and properly adjusted.
Never fuel a hot piece of equipment. Store fuel in UL listed self closing gas can.
Be aware of your surroundings. Especially kids and pets.
Avoid pulling the push mower.
Avoid mowing on wet or steep slopes.
If the mower needs to be cleaned, use a stick, not your hand.
Never leave a running piece of equipment unattended.
Special Safety Tips for Riding Mowers and Tractors
In addition the above listed items, riding mowers and tractors include additional safety tips and guidelines which should be considered.  Some of these include:
Make sure all tire pressure is adequate.
Make sure all guards are in place
If rollover protection is provided—make sure to wear the seat belt
Avoid mowing on wet or steep slopes. If necessary, mow up and down the slope.
Always wear the seat belt when roll over protection is in place. This is critical in a rollover accident.
Operate tractor at a safe speed.
Chain Saw Usage
The use of a chain saw requires knowledge, training and a buddy. Chain saws send over 40,000 people a year to the emergency room. If your maintenance or grounds staff is going to use a chain saw, it is very important that the person operating the saw is qualified. Some items to consider are:
Proper PPE.
The location of the tree to be dropped. The area it will fall must be isolated.
When cutting a tree keep your helper at least 2-3 lengths away.
Look out for hazards. Overhead electric lines and dead branches.
Use the chain saw only from the ground level and not from a ladder.
You must have a pre-planned escape plan.
Seasonal and summer help is very important and valuable to our school systems. However, as a school administrator you need to understand the additional hazards and risk associated with seasonal help. Safety training and communication must be a priority.
---
BUILDING CONTENTS
Scott Wightman – Area Executive Vice President
As you know, we provide updated building values for every member based on formal, on-site building appraisals conducted every four years with inflationary updates in the interim years. Last year, we provided some guidance for the first time on contents values which are a little harder to determine. We have had some claims recently, however, where the contents values submitted by members were questioned by our reinsurers and we would like to provide you some broad parameters again.
Our appraisal service engaged an expert in this field and he has offered these ranges (per square foot) for your consideration when you update your statement of property values this summer as part of the Renewal Questionnaire process:
Elementary School – $27.50-$33.00
Middle School – $28.00-$33.50
High School – $30.00-$35.50
Vo-Ag Building – $25.00-$29.00
Administration – $25.00-$30.00
Gymnasium – $20.00-$24.00
Bus Barn/Garage – $6.00-$8.50
For those buildings submitted on the Renewal Questionnaire below these ranges, we may reach out to you to see if there are any extenuating circumstances at those buildings. Our only purpose is to make sure we have appropriate insurance to value.
---
Please Join Us in Welcoming Jim Akers to the MUSIC Team
Alan Schmitt, ARM-P – Area Vice President Loss Control
We would like to welcome Jim Akers to the MUSIC team!
Jim started with MUSIC on April 1st as part of a specialized Loss Control Consultant.
The staff recommended to the MUSIC Board the hiring of a new full‐time staff member to focus solely on workers' compensation cost reduction.  As part of Jim's responsibilities, he will be assisting members with higher experience modification factors and develop policies and procedures for all members.
We are extremely pleased that we were able to hire Jim Akers from Parkway Schools into this position. He has been an asset to the MUSIC program for many years as we have plagiarized his work product and asked him to meet with other St. Louis area districts that have wanted to improve their programs. At Parkway, under Jim's management, their mod has decreased from 1.29 to .59! Needless to say, he knows what he is doing.
Jim has already been meeting with the high mod districts in the St. Louis area.
Jim resides in Ballwin Missouri with his wife Brenda, and dog, Sia.  He is the proud father of three sons Jason, Ryan and James.   Jim is also happy to announce that Jason recently got married.
---