September 18, 2020
MUSIC Matters – Volume 24 – 3rd Quarter 2020
MESSAGE FROM THE CHAIRMAN OF THE BOARD
DR. BERNARD DUBRAY
SUPERINTENDENT OF SCHOOLS
FORT ZUMWALT SCHOOL DISTRICT
Dear MUSIC Member,
Education times continue to be difficult and ever changing. By now, many school districts have opened their doors to face-to-face instruction with masks, hand washing and social distancing – the words of the day. Many of us have offered families the option of virtual instruction, and others of us have our entire school district on virtual instruction due to COVID numbers and directions from local health departments. I think everyone is being successful in their own way and trying to reflect the needs and desires of their communities and parents. But it will really be great to get back to full face-to-face instruction for all of us. I hope those days are not too far off.
The MUSIC Board of Directors recently held their third meeting of the year on Sept. 3 at the Lodge of the Four Seasons. We heard good reports on the 2020 budget and, although property claims are up, they have been offset by reduced auto, liability and work comp claims caused by the closure of schools. At the next meeting, Oct. 8, we will get a further report on the budget and expectations for the 2021 budget. Final rates for 2021 will also be set at the Oct. 8 directors meeting and I am hopeful that we can continue to offer a discount on the rates based on the good report on this year's budget.
Also at the Sept. 3 meeting, we heard a COVID-19 update. As part of this update it was pointed out that many insurance companies exclude virus claims from their liability coverage and probably many more will begin to make that change Jan. 1. MUSIC does not exclude COVID-19 from coverage and does not plan to exclude it next year. A member must follow all federal, state and local health department orders and requirements to qualify.
Finally, I would just remind the members that annual law workshops will be held this year as webinars on Oct. 5 and Oct. 15, beginning at 10 a.m. each day. The workshops will be provided by the Mickes O'Toole law firm and have always been very popular in the past.
I hope that whatever method of instruction your school district or community college is using, it is successful for you. I also hope that our annual membership meeting Jan. 28 – 29, 2021 will be able to be held face-to-face. This will be depending on a lot of factors between now and then, but if we are face-to-face, it means the COVID climate is looking better.
Best wishes to you all as we navigate this very difficult time in our history.
---
MESSAGE FROM THE EXECUTIVE DIRECTOR
MR. MARK STOCKWELL
EXECUTIVE DIRECTOR
As you are all too well aware…COVID 19 has altered nearly everything we do. The rules of this game change daily and vary significantly from one region of the state to another. Hopefully, you are back in school and experiencing only minor challenges related to the virus. If you are experiencing high case numbers, please know that we are here to help, so please don't hesitate to give us a call.
As Dr. DuBray mentioned in his message, the MUSIC Board held its 3rd Quarter meeting on September 3rd. At that meeting, the MUSIC staff informed the Board that property claims are well above projections. Fortunately, auto, liability and workers' compensation claims are down offsetting the negative property variance. We continue to be cautiously optimistic that revenues will exceed expenditures for 2020.
The current property reinsurance market is challenging and we are expecting a 15%-20% increase in the premiums that MUSIC pays for excess coverage for 2021. Although we don't like to see rising excess rates, this is also the environment where MUSIC provides its greatest value to our members. Organizations purchasing insurance through the commercial markets will likely see significant increases in property premiums for 2021 and we expect our rates to members to remain relatively flat. The Board of Directors will be setting the 2021 assessment rates at the 4th quarter meeting scheduled for October 8, 2020. They are also expected to approve a membership credit similar to the current 8% credit.
The 2021 renewal questionnaires (RQs) were due today, September 18th, however if you were not able to complete them, please do your best to complete them within the next week. Be sure you reviewed the Statement of Values under Data Collection to ensure that they reflect current building use and replacement cost. Please also note that we do not mail out invoices. We will send out an eblast when the invoices are posted to the document libraries in early November.
Please know that you can always call me or any of the MUSIC staff any time you have a question or need assistance. We'll make every effort to be helpful.
---
FALL VIRTUAL LAW WORKSHOPS
MARK STOCKWELL
EXECUTIVE DIRECTOR
The MUSIC Program, in association with the Missouri Consultants for Education, are sponsoring virtual law workshops on October 5th and 15th.The MUSIC team works closely with MCE in planning these sessions to cover timely topics and areas of concern for school administrators. The goal is to provide updated policies and best practices for use in your buildings.This year the topics include:Employee Retaliation and Liability in LitigationVirtual Education and Remote LearningSexual Orientation and Gender IdentityNew Title IX Regulations and PoliciesCOVID 19: Best Practices in HRCOVID 19: Instruction, Extracurricular Activities, and AthleticsThe sessions are limited to two hours including time for Q&A. Both workshops will begin at 10:00 am and registration information is available on the Event page.
---
MUSIC ANNUAL MEMBERSHIP MEETING
MARK STOCKWELL
EXECUTIVE DIRECTOR
The 2021 MUSIC Annual Membership Meeting is just around the corner. Please mark your calendars for January 28-29, 2021. If the virus situation allows, we will be on site at the Lodge of Four Seasons, Lake of the Ozarks again this year. The agenda will be sent to all members later in the fall. You may call the Lodge (573‐365‐3000) now to make reservations. You may also register online with MUSIC on the Events page.
---
90-DAY NOTICE
MARK STOCKWELL
EXECUTIVE DIRECTOR
Please recall that MUSIC members are required to provide a 90 day notice (by October 1) if you intend to seek insurance bids for 2021. If you leave the program without providing the notice, there will be a 25% penalty of your 2021 assessment.
Unlike some other expenditures, you are not required to seek bids on your MUSIC coverage because it is provided through a self-insured risk management pool. As you all know, the program has been extremely successful because our members are committed to the long-term shared goals of providing safe and efficient school environments. We do that through effective safety and loss prevention programs and coverage tailored to your needs.
---
2021 RENEWAL QUESTIONNAIRES – DUE FRIDAY, SEPTEMBER 18TH
DEANNA SHARLEY
CLIENT SERVICE MANAGER
Thank you to those members who have completed the 20201 Renewal Questionnaires.
MUSIC understands that this is a busy time for our members. As a friendly reminder, access to the 2021 Renewal Questionnaires is now available. This information is used to collect data, or exposures, that is needed to provide an accurate account of the MUSIC program for all of those who work on the insurance for your account. All components need to be completed and submitted no later than September 18, 2020.
Many resources are available if you need assistance on how to navigate through the questionnaires. Whether you are new or just need a refresher, training is available here. Other resources available to help you through this process can be found at the bottom of the FAQ page, including step-by-step Renewal Questionnaire Instructions and the MUSIC Payroll Calculator that is available for download. Alternatively, you can call Deanna Sharley (314.800.2244) or Amy Mehrmann-Dale (314.800.2235) with questions about the renewal process.
---
SCHOOL SECURITY — ARMING STAFF
ALAN SCHMITT, ARM-P
AREA VICE PRESIDENT, LOSS PREVENTION
It seems every time you turn on the news, pick up a newspaper, or look online, there is a reference to an active shooting event. Unfortunately, school violence and shootings are not going away. Therefore, it is extremely important that we review our current security procedures and understand some of our security options under the MUSIC program.
There are five primary areas which should be addressed:
Perimeter and classroom physical security
Security policies
Security training and intruder drills
Threat assessment
Armed Security Personnel
Let's review each of these topics a little closer.
Physical Security
The physical security of your campus, schools and classrooms continues to be one of the most important areas to address.  However, with this in mind, our security efforts cannot interfere with "Life Safety Code" guidelines.  We need to look closely at any security measures being considered to ensure they do not create a life safety issue or other safety concern.
Some key physical security items to consider include:
All perimeter doors need to be locked from the outside. This includes kitchen doors and doors used for playground access.
Video monitoring should be considered at all entrances, but at a minimum, it should be installed at the main entrance to the school.
The main entrance should have a communication system with the main office.
All classroom doors should have the ability to be locked. It is strongly recommended that doors which require a key to lock them be "pre-locked."
First floor windows and windows in classroom doors should have shades or blinds so they can be closed during an intruder event.
Glass panels in classroom doors should have a clear security film placed on them so they are more impact resistant.
Each classroom should have two-way communication with the office.
Security Policies
It is also important that our security policies be reviewed and updated to address potential concerns.  The policies should then be communicated to staff.  Probably one of the most important policies to review is the visitor and vendor policy.  Do you have a good policy which requires the visitor/vendor to sign in, wear visitor lanyard, and sign out.  Even a better policy is to collect some form of identification when they enter the school.
Security Training and Intruder Drills
All staff and students should be routinely trained in intruder policies and how to react to an intruder.  In addition, a minimum of two intruder drills should be completed every school year.  The training and drills should include the following:
Confronting any person in the building who is not wearing a "visitor " badge.
The importance of maintaining perimeter security.
Not opening perimeter doors for individuals and rather directing them to the main entrance.
How to properly secure classrooms and other safe areas.
The importance of option-based responses.
Scenario-based drills should be considered. These actively require teachers and staff to make split second decisions.  All staff needs to be trained in option-based responses.
Threat Assessment
A key component in eliminating an active shooter event is to identify any potential threats before they escalate into an actual event.  This is the primary purpose and focus on the threat assessment process.  Analysis of past events has told us that many times one or more students, teachers or others were given clues that the event was going to take place.  It is important that a program be put in place so these clues can be communicated to a common person or team so they can be evaluated and perhaps acted upon to keep the event from occurring.
Armed Security Personnel
Within the MUSIC program you have several different options for armed security personnel on the school campus.  They include the following:
A commissioned law enforcement officer
This is probably the best option.  This is an SRO or similar commissioned officer assigned to the school district or school event.  In this scenario, the commissioned officer is largely controlled by the local police chief or county sheriff.  The police chief or sheriff will ensure the SRO maintains their commission, weapons qualifications, physicals and mental assessments.
A school protection officer (SPO)
In 2014, the Missouri legislator passed SB 656.  This legislation created the position of an SPO in a school.  If your district is interested in appointing an SPO, you must follow all criteria outlined within the legislation.  This includes having the person receive all POST-required training.  In this scenario, the SPO is not commissioned by the local police chief or sheriff.  Therefore, they will not have a relationship with the juvenile system and their powers are limited.
To maintain their designation, School Protection Officers shall—
(A) Successfully complete a minimum of twelve (12) hours of annual training. Eight (8) hours of this training shall have a primary focus of responding to active school shootings and shall be delivered by a local, county, or state law enforcement officer qualified to offer a response to active shooter course and who is in possession of a valid peace officer license. The remaining four (4) hours of training shall have a primary focus of weapon retention, firearms skill development, defensive tactics, ground fighting, and handcuffing and restraint devices. The four (4) hours of training shall be delivered by a local, county, or state law enforcement officer qualified to offer this type of training and who is in possession of a valid peace officer license.
(B) On a quarterly basis, successfully complete a firearm qualification course using the same firearm used in the performance of their duties as a School Protection Officer. This course can be delivered by any local, county, or state law enforcement officer qualified to offer a firearm qualification course and who is in possession of a valid peace officer license.
(C) Maintain a secondary/third-party First Aid/CPR certification.
Written documentation of the completion of the twelve (12) hours of annual training, successful quarterly firearm qualification, and a current copy of his/her secondary/third- party First Aid/CPR certification must be maintained by the school where the School Protection Officer is employed for a period of three (3) years from the date the training, qualifications, and certifications were successfully completed.
In addition to the above requirements, it is important that all SPOs be given a mental health assessment on a routine basis.
Contracted security service
Under this scenario, the school district hires an outside security firm to provide security at the school or school event.  If you enter into this type of agreement, it is important that the contract requires that the private security company requires their security staff to maintain weapons qualifications and mental health assessments.  The district should also require a certificate of insurance from the private security firm for both liability and work comp.
The district employs off-duty commissioned law enforcement officers to perform security activities on campus.  The written agreement or contract with these officers must specify job duties and other actions the officers may participate in while on campus.  I strongly recommend that you have your legal counsel draft the employee agreement.
There is only one company that I am aware of which provides this service. (Shield Solutions)  Under this scenario, the school district allows staff members to become armed.  The district contracts with Shield Solutions to provide training, mental health assessments and receive weapons qualifications for selected staff. In addition, Shield Solutions also provides on-going training and mental health assessments.  The contract with Shield Solutions indicates that if a Shield Solutions trained person is ever is required to use their weapon as a result of an active shooter event, they immediately become a Shield Solutions employee and will be covered by the liability and work comp insurance of Shield Solutions.
MUSIC Resources
Your MUSIC/Gallagher loss control staff has developed several checklists and other resources to assist your school district in evaluating and addressing your security needs.  In addition, we are available to perform on-site security evaluations of your school and campus.  Finally, we are also available to assist you with training your staff on intruder response.  If you have any questions you can contact us at 314-800-2255 or at alan_schmitt@ajg.com
---
WHY BUY AN UMBRELLA
PEGGY WILSON
AREA VICE PRESIDENT, MEMBER SERVICES
As a MUSIC member, you are provided with liability limits up to the statutory state caps that apply when your sovereign immunity defense is waived. Those limits are a little less than $3,000,000. However, in today's legal environment, that isn't always enough. Plaintiff attorneys will also name individual employees, administrators, and board members to circumvent those same caps and immunities available to governmental entities, which also triggers large settlement demands. Umbrella policies offer that "extra" protection from the unexpected.
Many contracts that members have with vendors require more than the $3,000,000 that MUSIC provides. Be sure you review these contracts before signing, or it could require more than what you currently have through MUSIC.
Unfortunately, there have been several suits against our members in recent years with requests for damages in excess of $5 million dollars. Claims such as automobile accidents that may involve multiple injured parties can result in large sums of damages being claimed. Rising medical costs with long hospitalizations can lead to hospital and doctor liens well over seven figures. In some of our current cases, we have multiple claimants with combined medical expenses over $1,000,000 for a single accident. This does not include the same plaintiff's claims for wage loss and permanency. In those situations, it is easy to anticipate demands in excess of our policy limits. Fortunately, our members involved have had umbrella policies.
Training must be complete before you can purchase this coverage. You must be up to date with your MUSIC Sexual Misconduct: Staff-to-Student training, as it is required of all Certified and Non-Certified staff, whether full- or part-time and substitute teachers. MUSIC also recommends this training for Board Members, parents, and adult volunteers (who volunteer regularly). Members who wish to purchase umbrella policies for the December 31, 2020-2021 term, must have this completed by faculty and staff before you can purchase or renew your umbrella. If it has not been completed, coverage cannot be afforded to you. If a sexual abuse claim is filed against the MUSIC member, a $100,000 deductible will apply.
One request we get most often regarding umbrellas is, "What are other members purchasing?" Below is the breakdown of what MUSIC members purchased last year.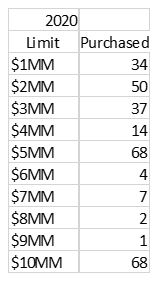 Please feel free to contact me with any questions or if you are interested in purchasing this coverage. We will provide all members with quotes in your 2021 MUSIC Invoice Assessment Packet at the beginning of November.
---
Fact or Fiction: MUSIC Sexual Misconduct Training Is Required
JACKIE TURNAGE-FERBER
CLIENT TRAINING AND TECHNOLOGY COORDINATOR
While MUSIC members know that the MUSIC Sexual Misconduct:  Staff-to-Student training is required by MUSIC, many members may not know why this is a requirement. So why does MUSIC require this training every year?
First, if training is not completed by faculty and staff, and a sexual misconduct loss occurs, the member school will be subject to a $100,000 deductible per claim. Conversely, if the training is completed by faculty and staff and a sexual misconduct loss occurs, the $100,000 deductible will be waived. Second, beginning with the next renewal period, MUSIC members cannot purchase umbrella policies if the MUSIC Sexual Misconduct:  Staff-to-Student training has not been completed by December 31, 2020. Finally, MUSIC realizes staff training can be repetitious, but believes that this subject matter is too important not to be completed annually.
We must band together and protect students from sexual misconduct perpetrated by adults. Therefore, MUSIC requires all members to participate in the MUSIC Sexual Misconduct:  Staff-to-Student training. This video's subject matter includes a focus on preventing, recognizing, and reporting potential or actual child abuse and misconduct. There are many state requirements. MUSIC wants all staff to be aware of and understand their obligations in issues involving child abuse and the importance of the child's safety and well-being in acting promptly in reporting these issues.
Who must complete the Sexual Misconduct training? MUSIC requires the MUSIC Sexual Misconduct:  Staff-to-Student training be completed by all faculty and staff, whether full-time or part-time and all substitute and student teachers. It is also a good idea to assign this course to your School Board and adult volunteers working with students regularly. This course is the required replacement for the previous training titled Smarter Adults, Safer Children.
The MUSIC Sexual Misconduct: Staff-to-Student required course is available through SafeSchools and can be done individually as an online course or in a group setting with a staff member or administrator facilitating the training. Any group training requires attendance records, and these records must be maintained by the member and documented in the SafeSchools LMS.
If you have any questions about the required MUSIC Sexual Misconduct:  Staff-to-Student training, please contact Jackie Turnage-Ferber by phone at 314.800.2234 or by email jackie_turnage-ferber@ajg.com.
---
New Title IX RULE AND ITS IMPACT FOR MUSIC MEMBERS
NATALIE HOERNSCHEMEYER
MICKES O'TOOLE, LLC
Title IX prohibits discrimination on the basis of sex in educational programs and activities that receive federal funds. In May, the Department of Education released new regulations for Title IX to govern the reporting, investigation, and adjudication of sexual harassment allegations in educational institutions. These major changes went into effect on August 14, 2020. The new regulations re-define sexual harassment and establish detailed complaint and grievance procedures that schools must follow in response to sexual harassment allegations. In short, how school districts and colleges handle sexual harassment complaints and grievances has drastically changed.
To assist members in their obligations under the new Regulations, MUSIC has partnered with SafeSchools in the development of a new course for K-12 schools, entitled Title IX Compliance Overview. This training video provides school staff with an overview of Title IX regulations. Title IX Compliance Overview covers the history of Title IX and explains the new regulations for Title IX, including the new definition of sexual harassment and the process for how to handle allegations of sexual harassment, as well as the guidelines school districts must follow to remain in compliance with the law.
The training highlights that, for the first time, the regulations for Title IX now explicitly include an official definition of sexual harassment: conduct on the basis of sex that satisfies either Quid Pro Quo harassment, a hostile work environment, or harassment under the Violence Against Women Act. The standard for a hostile environment was heightened to be "unwelcome conduct determined by a reasonable person to be so severe, pervasive, and objectively offensive that it effectively denies a person equal access to the recipient's education program or activity." This standard must now "effectively deny" an individual's participation in or benefit from an educational program or activity, as opposed to the previously lower standard of "interfering with or limiting" an individual's access. Additionally, the reach of Title IX was narrowed by re-defining the scope of educational programs or activities over which a school district has substantial control. Ultimately, these refined definitions narrow the scope of alleged activity that triggers a school district's duty to initiate a formal investigation, while also increasing the burden on a school district for each individual step of the adjudication process.
It is important for school staff to be aware of the overall changes in the Title IX structure and process. School districts are now required to designate a staff member as the Title IX Coordinator to organize the district's compliance efforts, facilitate the receipt of formal complaints, and implement appropriate remedies. Moreover, there are two possible pathways for districts to respond based upon the type of complaint received. First, if ANY employee of a school district has "actual knowledge" of sexual harassment or allegations of sexual harassment, the employee must report this knowledge to the district and the Title IX Coordinator must reach out to the alleged victim to offer supportive measures. Second, a formal complaint can be filed with the district, which initiates the district's responsibility to investigate the allegation of sexual harassment through a specific, seven-step process. These new regulations outline the equitable treatment of both parties to ensure that investigations and adjudications are fair in recognition of each party's right to due process.
---
MUSIC COMPLIMENTARY COURSES
JACKIE TURNAGE-FERBER
CLIENT TRAINING AND TECHNOLOGY COORDINATOR
The State of Missouri has updated its Required Training for the 2020-2021 school year. MUSIC Members now receive twelve complimentary courses each year. These courses align with the state's requirements and federal requirements. This year's courses include the following:
Bloodborne Pathogens Exposure Prevention
De-Escalation Strategies (New Course)
Discrimination Awareness in the Workplace
Diversity Awareness: Staff-to-Student
FERPA: Confidentiality of Records
Health Emergencies: Life Threatening Allergies
MUSIC Bullying: Recognition and Response
MUSIC Establishing Healthy Boundaries
MUSIC Sexual Misconduct: Staff-to-Student (Required Course)
MUSIC Youth Suicide Awareness and Prevention
Sexual Harassment: Staff to Staff
Title IX Compliance Overview (New Course)
Please Note:  MUSIC Sexual Misconduct: Staff-to-Student is required of all Certified and Non-Certified staff, whether full- or part-time and substitute teachers. MUSIC recommends this training for Board Members, parents, and adult volunteers (who volunteer regularly). Members who wish to purchase umbrella policies for the December 31, 2020-2021 term must have this completed by faculty and staff before renewal. If a sexual abuse claim is filed against the MUSIC member, a $100,000 deductible will apply if the training has not been completed.
If you have any questions or concerns about training, please reach out to Jackie Turnage-Ferber by phone at 314.800.2234 or by email jackie_turnage-ferber@ajg.com.
---
REPORTING YOUR WORKERS' COMPENSATION CLAIM
BB BAX
WORKERS' COMPENSATION CLAIMS SUPERVISOR
When you have an injured employee, it is important to always provide the injured worker with the Workers' Compensation Treatment Authorization form before sending him or her for medical treatment. Missouri schools have the right to designate the medical provider(s). This medical treatment authorization form is essential not only for the authorization for your medical facility to examine and treat your injured worker, but also to give the provider MUSIC's billing information. Our goal is to make payment for services rendered as soon as possible to your medical providers. This form can be found on the MUSIC website by going to Claims>Workers' Compensation>Work Comp Toolkit under Treatment Authorization.
When reporting a Workers' Compensation claim via the web or through the claims line, please always provide your district number that begins with the letter "D" and includes your district's 3-digit number. Please ensure that you provide all necessary information regarding the injured worker when prompted, including where the employee will be treated. Please contact Marie "BB" Bax at 314-800-0217.
Schools can report a Workers' Compensation claim online using Risx-Facs. To report a claim online, you will need to have your assigned Risx-Facs user ID and password handy. If you do not know what your Risx-Facs user ID and password are, or if you need assistance on reporting a claim, please contact Michelle Clark (Direct Line: 314.800.0363 / Email: michelle_clark@gbtpa.com). Once logged in, please follow the directions in the Web Reporting Guide. Alternatively, your district can call the MUSIC reporting number (1.888.256.4919) to report a work-related injury.
---
WORKERS' COMPENSATION INCIDENT TRACKER ROLL OUT BEGINS MID SEPTEMBER
JIM AKERS
LOSS CONTROL CONSULTANT
MUSIC will be rolling out the new Workers' Compensation Incident Tracker, a cloud-based application that allows a school's Workers' Compensation Coordinator, or claims handler, to store incident and claim information electronically. The tool was developed for MUSIC and its members, and it will be unique for each member. The tool allows the Workers' Compensation coordinator one centralized place to track the school's open and closed Workers' Compensation incidents. It will also help facilitate communication between the school, the injured employee, the employee's supervisor, and other key stakeholders. The Incident Tracker is for tracking only and does not replace turning the actual claim into MUSIC / Gallagher Bassett or Risx-Facs.
MUSIC has identified nearly 90 schools that will be in the first phase of the rollout. These members were identified based on key demographics, including location and Workers' Compensation claims history. MUSIC has opted to roll out the tracker in phases to provide better customer service to schools learning how to use the tracker. The rollout will begin the week of September 21, 2020.
If your school desires to begin using the Incident Tracker and has not been provided details on how to access the tracker, please contact Jim Akers (contact information is listed below). MUSIC is excited to introduce all members to the Workers' Compensation Incident Tracker, and we will fast track any member who wants access to the tracker sooner than later.
If you are interested or have questions about the Incident Tracker, please feel free to contact Jim Akers at jim_akers@ajg.com or 314-800-2151.
---
WELCOME CASEY SWADLEY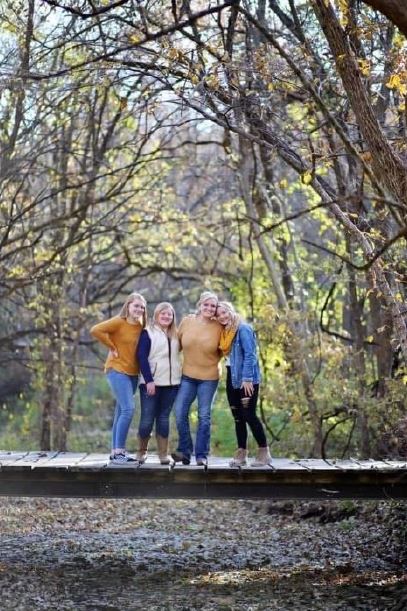 Name:  Casey Swadley
Home:  Platte City, MO
Role with GB:  MUSIC Dedicated Resolution Manager
Bio: Casey Swadley joined Gallagher Bassett Services in August 2020 as a Resolution Manager. Casey was previously employed with Gallagher Bassett Services approximately 15 years ago as a Resolution Manager. Casey started her worker's compensation career at Gallagher Bassett and learned the ropes. Casey has approximately 18 years of experience in worker's compensation claims handling and worked for carriers, as well as TPA's. Casey will be dedicated to the MUSIC program. Casey has been getting to know the entire team and culture over the last couple of weeks and could not be more excited to be working with such an amazing program and team!
Professional Licenses: Casey has previously held licenses in TX, KY, and OK.
Education: Longview Community College – Bachelor of Business
Fun Fact(s): Casey is a mom to 3 daughters, 3 bonus sons, and a 110 lb. furbaby. Her oldest daughter just went off to start her next chapter at MU a couple of weeks ago! She lives in the country on 22 acres. Casey loves the Chiefs, the lake, the mountains, music, and gardening!