February 27, 2020
MUSIC Matters – Volume 24 – First Quarter 2020
MESSAGE FROM THE BOARD CHAIRMAN
DR. BERNARD DUBRAY
SUPERINTENDENT OF SCHOOLS
FORT ZUMWALT SCHOOL DISTRICT
Dear MUSIC Member,
I'm not going to open this message saying anything about the weather because, it seems any time I do, it backfires. However, as this message is being distributed with the MUSIC newsletter, we are coming out of the month of February into March. Usually, any weather events that take place now are quickly dissipated. It's been a little bit of a rough year for most of us. The St. Louis area has seen anywhere from four to eight days lost due to inclement weather. The state's new method of counting only hours of instruction makes for some interesting scenarios that many of us may consider as we deal with inclement weather make-ups.
In any event, we just completed the annual membership meeting and had another stellar event. The staff has reported that the evaluations of the meeting were very good and most people enjoyed the programming presented to them. In particular, I liked the last meeting of the conference, "When difficult conversations turn into law suits – How to approach parent interactions in the age of litigation." I thought the Mickes-O'Toole staff did an excellent job, hitting the mark on many issues we confront daily. At the meeting's conclusion, the MUSIC Board held a meeting to reorganize and elect officers for the next year. Officers elected are as follows:
Chairman – Bernard DuBray
Vice Chairman – Phil Cook
Secretary – Chris Wilson
Treasurer – Ron Orr
All of the officers and all of the Board members appreciate the opportunity to serve this great organization. As I stated at the general membership meeting, if any of you general members ever gets the opportunity to serve on the Board, I would jump at that chance. We are all dedicated to providing the best oversight to the staff that we can and it is rewarding to see the organization continue to be financially stable and providing a great service to our members. Best wishes for a great spring ahead, and smooth sailing as we race toward graduations.
---
MESSAGE FROM THE EXECUTIVE DIRECTOR
MR. MARK STOCKWELL
MUSIC EXECUTIVE DIRECTOR
The 2020 MUSIC Membership Meeting was held January 30-31, 2020. We had another strong turnout and I'd like to thank all attendees for taking the time out of your busy schedules to make the trip. The membership meeting provides the venue for MUSIC staff to share the program results from the prior year and plans for this year with our stakeholders. We also include presentations on timely topics that hopefully help prepare members to prevent and/or respond to new risk issues schools are facing. I'd also like to thank everyone that completed the meeting evaluation surveys. We want to hear your thoughts and appreciate you taking the time to share them. The reviews were very positive again this year.
The Dr. Gary VanMeter Awards for Excellence in Risk Management were presented to four members that have demonstrated outstanding efforts and results in maintaining safe school and work environments. The recipients were selected using quantitative claims experience and training data. The awards were presented to Wellsville-Middleton R-I, Lewis County C-I, Affton School District, and East Central Community College. Congratulations to these member organizations for earning the 2020 Dr. Gary VanMeter Awards for Excellence in Risk Management.
The recipients of the 2020 MUSIC/Jack Holley Scholarships will be selected by the end of March and will be announced via email to the MUSIC membership. The selection committee has a very difficult task again this year as we received over 200 applications. There will be six $2,000 scholarships awarded to graduating seniors with three funded from the proceeds of the MoASBO / MUSIC Golf Tournament and three more funded by donations from Mickes O'Toole, Gallagher Bassett, and Genex.
Thank you for your continued support of MUSIC and the students of our great state. Together we truly are Protecting Missouri's Future!
---
MOASBO/MUSIC GOLF TOURNAMENT
Mark Stockwell – MUSIC Executive Director
The MOASBO / MUSIC Golf Tournament is scheduled for Sunday April 26, 2020. The event will be held at the Lodge of Four Seasons on the Cove and Ridge courses. The tournament (a four person scramble) will begin with a shotgun start at 1 pm and will culminate with an awards dinner immediately following the tournament at Tan Tara. There will be drawings for prizes donated by the vendors and sponsors during the dinner. You must be present to be eligible to receive these prizes.
The $70 registration fee includes: golf, cart, refreshments on the course and dinner. Registrations can be submitted as complete teams or individuals and should be sent to Mark Stockwell at MUSIC. The registration form can be found on the MoASBO and MUSIC websites and please feel free to contact me at 314-800-2220 or mark.stockwell@musicprogram.org  with any questions you may have. I encourage you to register early and look forward to seeing you on April 26th.
---
Student Transportation
Alan Schmitt, ARM-P – Area Vice President Loss Control
In the climate of reduced budgets and a shortage of bus drivers, districts are looking for innovative methods to transport students.  The following guidelines should be followed when considering alternative transportation methods.
Vehicles Used For Transportation
Under federal and state guidelines, any vehicle used to transport students with a rated occupancy of  more than 10 passengers, including the driver, must be a  yellow school bus and meet all Missouri Minimum Standards for School Buses and all Federal Motor Vehicle Safety Standards for School Buses
This means that a school district cannot purchase, contract, or rent any vehicle with a rated occupancy of more than 10 to transport students unless it is a motor coach and meets the Missouri definition for motor coach.  (reclining seats, restroom, air conditioning, etc)
Driver Qualifications
Under most circumstances, a bus driver, teacher, coach or school staff member who transports students as part of their employment responsibilities must meet minimum specified state guidelines.  These guidelines vary depending on the type of vehicle used to transport students.
School Bus Drivers—
In Missouri all school bus drivers must be a minimum age of twenty-one. In addition, all school bus drivers must possess a current and valid CDL license with the "S" endorsement.
All school bus drivers must receive an annual physical examination. Bus drivers employed by the school district are required to obtain the annual physical by anyone licensed in Missouri to perform physical examinations.  Any bus driver who is employed by a contracted service, who drives more than Home-School routes, must obtain the DOT physical.
A driver who is over 70 years of age must renew their driver's license annually and are required to submit proof of a school bus skills test to retain the S endorsement on their driver license at time of renewal.
All school bus drivers must receive eight hours of documented training on an annual basis.
All school bus drivers must participate in a drug and alcohol testing program.
 Other Employees Who Transport in Non-School Buses— (Vehicles which have an occupancy rating of 10 or less)
All other school employees who are required to transport students as part of their employment on a routine basis must possess a Class E license with the "S" endorsement.
Non-School Bus Drivers—
These drivers must receive eight hours of documented training on an annual basis.
These drivers must receive an annual physical examination by anyone licensed in Missouri to perform physical examinations.
This does not apply to school district staff that transport students on an emergency or incidental basis.  Incidental is interpreted as transporting students in an unexpected one time per year basis.
Any driver who possesses an out of state license can only transport students if their state will issue a Class E license with an "S" endorsement.
If your district is considering using or currently using non-school bus vehicles (Occupancy rating of 10 or less) the following guidelines must be considered:
These vehicles are not exempt from the child restraint regulations and laws
The driver is responsible to ensure all occupants are properly wearing the seat belts and all occupant restraint devices.

Best Practices
The follow best practices should be considered for all drivers:
An annual MVR (Motor Vehicle Records) check should be completed on all drivers who transport students.
Proof of insurance should be obtained from all staff who transport in private vehicles.
The use of cell phone while operating the vehicle should be prohibited.
Consider placing all Non-School Bus drivers in a drug and alcohol testing program. (A separate pool from your CDL drivers).
All Drivers should participate in the "Smarter Adults Safer Children" training.
See Table Below
School District
Use Non-School Bus Vehicles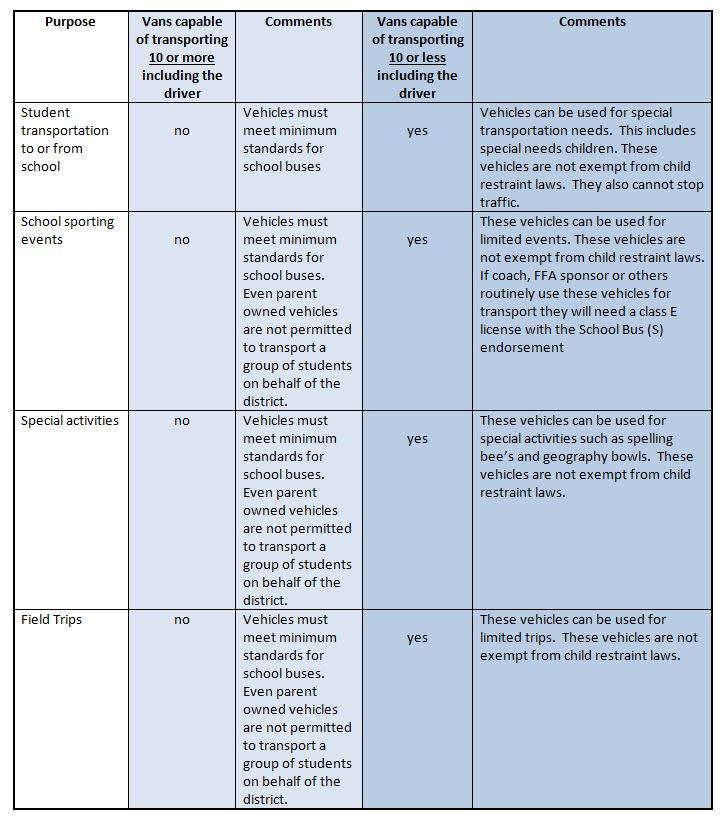 ---
Online Workers' Compensation Toolkit
Jackie Turnage-Ferber, Client Training and Technology Coordinator
MUSIC is committed to driving down costs associated with workers' compensation claims. As part of this undertaking, MUSIC developed a Workers' Compensation Incident Tracker. This tracker is designed for use by members, and it will allow MUSIC members to accommodate work-related injuries and illnesses. The goal of MUSIC is to return employees to the work environment as promptly as possible. Sometimes the return to work will require modified duties or a reduction in the total hours worked.
The new incident tracker will allow a member to compile workers' compensation data in a centralized database. MUSIC nor Gallagher Bassett Claims has access to data stored in the tracker; therefore, a member always needs to complete the First Report of Injury or call a MUSIC claims adjuster before using the new Incident Tracker. The tracker enables a member to enter workers' compensation data into the following section headings, including:
Incident Details
Comments
Medical Report Details
Witness Statement
Supervisor Update
The Workers' Compensation Incident Tracker will allow the WC Coordinator to sort claims using various options, such as by claim status, by location, by employee last name, and more. It will also allow the coordinator to track all incidents and identify them as an open or closed workers' compensation claim. Again, this new tool is designed solely for the internal use of the member only.
Several members are currently piloting the Workers' Compensation Incident Tracker. We will be collecting feedback from these schools and make modifications. We will launch the toolkit to the entire membership later this spring.
If you have any questions, feel free to reach out to the MUSIC team https://www.musicprogram.org/contact/ or email us at musicprogram@ajg.com
---
When Your Facilities are in Use
By Peggy Wilson, Arthur J. Gallagher
MUSIC members are frequently approached by various groups to use the members' facilities. These requests can range from using one room for a meeting, to sports events in the gymnasium and social events, such as reunions or chili suppers, in the cafeteria. The groups and uses can vary widely from member to member. Each of these requests can create potential liabilities for the MUSIC member so we have developed several methods to assist in eliminating or transferring the risk.
The following are several methods of assessing and dealing with the risks associated with having the public use your facilities.  Here are the four we have selected:
Facility Use Request Form – This is a form that you can have, those wanting to use your facilities, complete. When completed, you will have an understanding of the group and the event, and can use this to determine the best way to protect the entity against potential legal suits. There is a "SAMPLE" form, available on the MUSIC website.  This is optional to you, but may find it helpful in staying consistent with all groups that utilize your facilities.
Certificates of Insurance – We suggest that anyone that utilized your facilities should provide proof of their insurance. This is done by providing you with a Certificate of Insurance showing that they have general liability coverage.  You should also request to be shown as additional insured to their general liability policy.  This protects you in the event you are brought into a lawsuit where the organization/group are liable.  Once you have approved the use of your facility by an organization you need to determine if they have insurance. If they do, you will need to obtain a Certificate of Insurance that confirms their coverage.  You should also request to be named as an Additional Insured to their general liability policy.  This should be shown on the certificate and an endorsement to the policy should also be provided to you.
Hold Harmless Agreements – If a group or organization does not have insurance, depending on what your Board Policy states, you may have the option to allow them to sign a Hold Harmless. Be sure to always check your Board Policy, as you must follow your Board Policy.  If you require those that use your facility to have insurance, one option is to direct them to the online TULIP program that MUSIC offers only to their members.  This is one or two-day event insurance for eligible events that take place on your premises.  If your Board Policy approves of signing a Hold Harmless Agreement, or waiver, samples are available and were developed by one of the law firms MUSIC uses.  Hold Harmless Agreements may also be called Indemnity Clauses and are required in addition to insurance in construction or service contracts. These agreements are not intended to be used for construction or service contracts. Those should be crafted by your school attorney.
Special Events Coverage – This coverage can be purchased through MUSIC's online program, TULIP  for those events that will be held on member's premises only. By providing the required information, and selecting the type of event that is eligible from the dropdown, you will be provided an online quote that you can choose to purchase and pay for online.  The policy provides $1,000,000 liability coverage for the short term needed.  If you would like other options, please let the MUSIC Staff know and we will assist in the different resources available within the insurance industry.  Please email us at musicprogram@ajg.com with any questions you may have on this coverage. (Note: This coverage is only for spectators at an event; it does not cover participants or performers of the event.)
These are ways to protect both the member and MUSIC, as a pool.  It is up to each member how they choose to protect themselves from outside risks.  All must follow your Board Policy to determine what you are required to do, but these are MUSIC's recommendations.
---
New Staff Member
Michelle Clark , Senior Account Manager
Name:  Carol Schoelch
Home:  Oakville, MO
Role with GB:  Workers' Compensation Resolution Manager
Bio: Carol Schoelch joined Gallagher Bassett Services on February 18, 2020 in the dedicated MUSIC Workers 'Compensation unit as a Resolution Manager.   Carol's prior employment includes, Workers' Compensation Manager for Caleres (formerly Brown Shoe Company) from 2001-2019.   Carol also worked as a Senior Workers' Compensation Adjuster for Kemper Insurance Company from 1994-2001 and a GL, AL and Liability Claims Manager for Clark Oil Company from 1989-1994.   Carol brings with her a wealth of experience and expertise to the MUSIC Account.  Please join us in welcoming Carol with open arms to our program!
---
Key Elements of a Tornado Safety Plan
Alan Schmitt, ARM-P
Area Vice President Loss Control
The tornado season is here.  It is once again time to revisit our tornado safety plan.
Our plan includes three primary elements:
Preparation
Drill
Response
Preparation:  Being prepared for a tornado starts with a good plan. The first element to consider is to determine where your employee, clients or visitors will be the safest.  Ideally, the lowest possible level, in an interior room, is the safest. The use of long halls should be used as a last resort.
Let's review our tornado safe shelters:
Where are they?
Do all staff, clients, volunteers know where they are located?
Are they identified with signs?
Are they clear of clutter?
Do they have emergency lighting and working flashlights?
Does staff know where emergency go buckets are located?
Once you have identified these safe areas it is important that you share this information with your local emergency responders.
It is also important that specified staff be directed to listen to the weather radio and monitor weather conditions.
Drill:  All staff should take drills seriously.  It is your responsibility to assist students as directed by crisis team leaders or your supervisor.
Response:  The final key area of the plan needs to include the response after the event.  This includes such items as:
Staff and client accountability
First aid
Turning off electric and gas
Coordination with emergency responders
Communication with the media and parents
Many times the response will be determined by the severity of the tornado.
In summary, a good tornado safety plan begins with good planning and preparation.  It is vital that you review your plan at least yearly to make sure it still is the best possible plan you can have in place.  Once you believe you have the best plan in place, then you need to train and drill the plan so it will be properly followed in the event of a tornado.