September 16, 2020
WHY BUY AN UMBRELLA
As a MUSIC member, you are provided with liability limits up to the statutory state caps that apply when your sovereign immunity defense is waived. Those limits are a little less than $3,000,000. However, in today's legal environment, that isn't always enough. Plaintiff attorneys will also name individual employees, administrators, and board members to circumvent those same caps and immunities available to governmental entities, which also triggers large settlement demands. Umbrella policies offer that "extra" protection from the unexpected.
Many contracts that members have with vendors require more than the $3,000,000 that MUSIC provides. Be sure you review these contracts before signing, or it could require more than what you currently have through MUSIC.
Unfortunately, there have been several suits against our members in recent years with requests for damages in excess of $5 million dollars. Claims such as automobile accidents that may involve multiple injured parties can result in large sums of damages being claimed. Rising medical costs with long hospitalizations can lead to hospital and doctor liens well over seven figures. In some of our current cases, we have multiple claimants with combined medical expenses over $1,000,000 for a single accident. This does not include the same plaintiff's claims for wage loss and permanency. In those situations, it is easy to anticipate demands in excess of our policy limits. Fortunately, our members involved have had umbrella policies.
Training must be complete before you can purchase this coverage. You must be up to date with your MUSIC Sexual Misconduct: Staff-to-Student training, as it is required of all Certified and Non-Certified staff, whether full- or part-time and substitute teachers. MUSIC also recommends this training for Board Members, parents, and adult volunteers (who volunteer regularly). Members who wish to purchase umbrella policies for the December 31, 2020-2021 term, must have this completed by faculty and staff before you can purchase or renew your umbrella. If it has not been completed, coverage cannot be afforded to you. If a sexual abuse claim is filed against the MUSIC member, a $100,000 deductible will apply.
One request we get most often regarding umbrellas is, "What are other members purchasing?" Below is the breakdown of what MUSIC members purchased last year.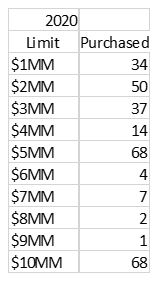 Please feel free to contact me with any questions or if you are interested in purchasing this coverage. We will provide all members with quotes in your 2021 MUSIC Invoice Assessment Packet at the beginning of November.